Chicago Motor Training School
Asia Driving School is one the most reputable schools in Chicago and Aurora regions with two Chicago office locations at W Devon Ave and W North Ave and one Aurora location at 902A N Lake Street. Our unique approach to teaching, one-of-a-kind teaching techniques, and efficient program structures make us an excellent choice for new drivers. Sign up today to see for yourself! Feel free to contact us at (773) 764 5399.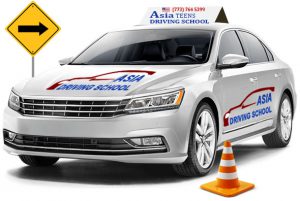 MISSION & VISION
Our Mission is to educate students to drive defensively by creating safe and responsible drivers.
Having your own license is essential in today's world. Imagine trying to find a job without one. Public transportation doesn't always go where you need to go, and it may take hours instead of minutes to get where you want. Owning your own Illinois drivers license opens up a world of opportunities that may not be open to you otherwise. Getting Illinois drivers license and achieving your independence could be a long and difficult path. We at Asia Driving School, Chicago and Aurora make it easy and fast for you. Our instructors and unique methodology transform the complex to the simple and provide you the best possible training. Start today on the path to becoming an independent driver the easiest and fastest way!
Our School offers two professional drivers education programs for new students in Chicago and Aurora :
Both programs comprise of various courses including Classroom instruction and behind the wheel training for all age groups of males and females across Chicago and Aurora areas. You can learn to drive safely within 2 hours.
Online Driving Classes also available